Thursday, November 04, 2021
Executive Forum: From "Made in China" to "Brands from China" - How Digital Innovation Has Transformed Global Trade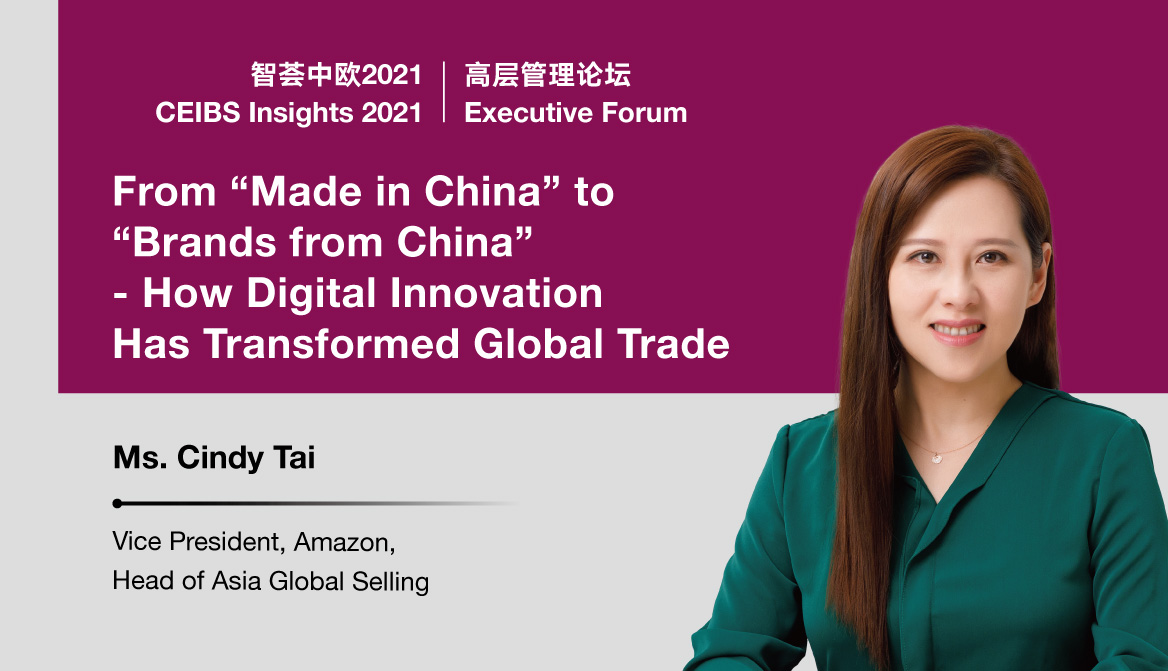 Please join us for our upcoming CEIBS Executive Forum on November 4, 2021, with Ms. Cindy Tai, Vice President, Amazon, Head of Asia Global Selling, who will give a lecture on From "Made in China" to "Brands from China" - How Digital Innovation Has Transformed Global Trade.
Guided by its four principles of customer obsession rather than competitor focus, passion for invention, commitment to operational excellence, and long-term thinking, Amazon has inspired a fundamental shift in the e-commerce landscape. Notably, Amazon has helped millions of sellers reach customers worldwide through Global Selling and, as one of the world's largest economies, China is an important part of Amazon's story. But, in today's ever-changing world, what does the future of the cross-border e-commerce industry look like? What role will Chinese brands play on the global stage – and how will Amazon help them succeed?
During this event, Cindy Tai will share insights from her journey with Amazon. She will share stories about how she leads the Global Selling business in Asia Pacific, how she acts as a bridge to elevate the visibility of and create value for her team and Chinese sellers, how China-based sellers are evolving and what she sees as the future of cross-border e-commerce in China.
About the speaker
Cindy Tai, Vice President, Amazon, the Head of Asia Global Selling, leads the overall business strategy and development of Amazon Global Selling in the Asia-Pacific region. Cindy Tai has over 20 years of strategic management experience in technology, especially e-commerce and mobile cloud services.
Date: November 4, 2021
Time: 18:30-20:30
Language: English
Venue: Offline and online (livestreamed via Zoom)
Note: Limited offline seating is open for CEIBS alumni and current students. Please select 'offline participation' in the registration link below if you qualify.
Event Details 
18:30-18:35   Opening
18:35-19:30   Speech by Cindy Tai, Vice President, Amazon, Head of Asia Global Selling
19:30-20:30   Q&A session and networking
Contact: Please RSVP via the link below or contact Ms. Joey JIN at jjoey@ceibs.edu or +86-21-2890-5441.